You must allow cookies and JavaScript for a proper shopping experience.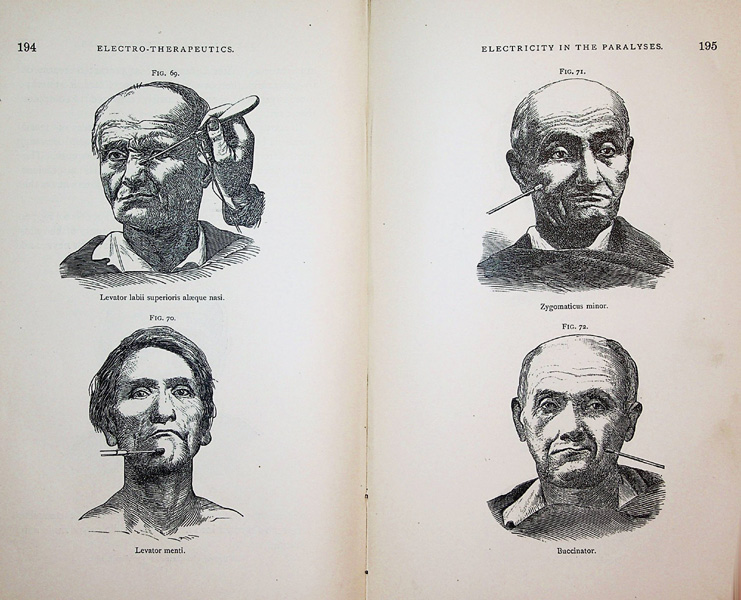 Price: $50.00
Publisher: Philadelphia, Henry C. Lea's Son & Co. : 1882
Seller ID: 91
---
19TH CENTURY AMERICAN MANUAL OF THE USE OF ELECTRICITY TO TREAT MANY DISEASES, INCLUDING SURGICAL APPLICATIONS--COPIOUS ILLUSTRATIONS. 9 1/2 inches hardcover, xx, 291 pages,original green cloth binding, gilt title on spine, covers rubbed, corners bumped, 109 wood engravings in text. Institutional handstamp to Introduction page, no other library marks. light pencil underlining throughout, pencil notations on rear endpapers; good +. Illustrations show a wide variety of the apparatus used to apply electrical stimuli to subjects, including laryngeal, vaginal, uterine, rectal, and urethral electrod...
View More...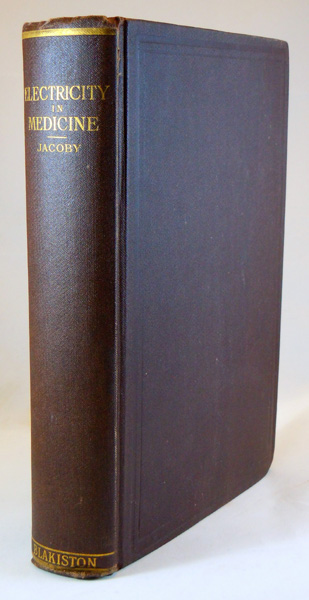 Price: $35.00
Publisher: Philadelphia, P. Blakiston's Son & Co. : 1919
Seller ID: 119
---
1919 REMARKABLE COLLECTION OF ILLUSTRATIONS OF EQUIPMENT FOR ELECTROTHERAPEUTICS IN MEDICINE. 9 1/2 inches tall hardcover, xxii, 612 pages, original brown cloth binding, gilt title on spine, 262 text illustrations of apparatus and its application. Corners and spine ends bumped, otherwise pristine with no marks. GEORGE W. JACOBY (1857-1940) received his medical degree from the Bellevue Hospital Medical College in 1877 and from the University of Berlin in 1878, He had completed sixty years' service in the field of nervous diseases in New York City. From 1882 to 1902 he was attending physician to...
View More...